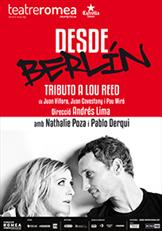 No m'agradava l'escola
No m'agradaven els grups
No m'agradava l'autoritat …
Estava fet per al Rock&Roll
(Lou Reed)
Nova York, The Factory, Warhol, creació explosiva, molta poesia, realitat i irrealitat, molta ambigüitat i sobretot, molt Rock and Roll.

Al voltant de tot aquest panorama, un músic, poeta, agitador, ciutadà de la seva ciutat i no d'una altra, hereu de la més pura tradició poètica urbana de Delmore Schwartz, Saul Below o Allen Ginsberg i algú que esdevé una influència fonamental per a diverses generacions de músics, poetes i persones de la cultura, Lou Reed.

De la mà d'Andrés Lima, Pablo Derqui i Nathalie Poza ens portaran a fer un passeig per aquest univers màgic, contradictori i extremadament brillant que ha marcat el pas a tants i tants artistes de totes les disciplines de l'art dels últims 60 anys.
Espectacle en castellà

Durada: 1h i 10 minuts (sense entreacte)